---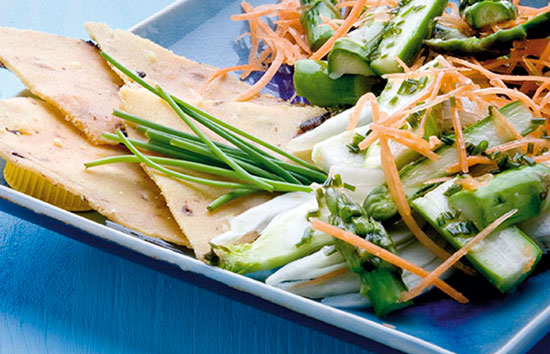 INGREDIENTS
200 g asparagus
3 carrots
2 fennels
1 bunch of chive
half of a lemon
INSTRUCTIONS
Desalinate carefully and chop the capers. Mix the corn and rice flour together and then with 2-3 tablespoons of oil and the capers. Add the necessary water to obtain a soft dough.
Roll out a very thin sheet (1-2 mm at most); cut into triangles and cook in the lower part of the hot oven at 180-190 ° C for about 10 minutes.
Clean well the fennels from the ends and the outer leaf, divide them into two parts and slice them finely. Cut the carrots into thin strips. Remove the final part of the asparagus, divide them in half and cut them into 4 parts lenghtwise.
Mix together the three vegetables, arrange them in a basket and cook them in steam for no more than 10 minutes, so as to leave them very crisp.
Wash and dry the chives, chop finely with scissors and place in a small bowl, add a pinch of salt, the juice squeezed from half a lemon and a little oil. Emulsify the various ingredients.
Mix the still warm vegetables very well with the sauce obtained. Distribute them in the dishes, flank them with the capers puff pastry and serve immediately.